Unknown 405p822
From Signal Identification Wiki
Unknown 405p822
Frequencies
405.822 MHz
Frequency Range
405.822 MHz - 405.822 MHz
Mode
FM
Modulation
Unknown
ACF
—
Bandwidth
1.5 kHz
Location
Brisbane, Australia
Short Description
Obvious bursts, unknown modulation. Long burst heard every 5-10 seconds on average. IQ file in description. First thought is some kind of trunking, as it is very close to the band where trunking radio is usually seen.
I/Q Raw Recording
—
Audio Sample
Obvious bursts, unknown modulation. Long burst heard every 5-10 seconds on average. IQQuadrature signals form the basis of complex RF signal modulation and demodulation, both in hardware and in software, as well as in complex signal analysis. file in description. First thought is some kind of trunking, as it is very close to the band where trunking radio is usually seen.
Modulation is not obvious when FMFrequency Modulation demodulated bursts viewed in Audacity.

Check http://www.sigidwiki.com/wiki/Digital_Mobile_Radio_(DMR), Half slot TDMATime Division Multiple Access sample.
EDIT: I haven't been able to get DMR to decode, and it doesn't seem as evenly spaced as slotted DMR.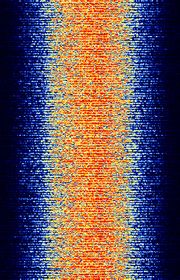 EDIT : Try tetra.
--Cartoonman (talk) 05:13, 22 January 2016 (NZDT)
Samples
[
edit
]
Frequencies
[
edit
]
Found on 405.822MHz.