Mazielka (X06)
From Signal Identification Wiki
Mazielka (X06)
Frequencies
4.963 MHz,23.458 MHz
Frequency Range
4.963 MHz - 23.458 MHz
Mode
USB
Modulation
MFSK
ACF
—
Emission Designator
—
Bandwidth
200 Hz
Location
Russia
Short Description
Mazielka (X06) is a diplomatic selcall system used by the Russian Ministry of Foreign Affairs. Used to alert that a Serdolik transmission is going to occur soon, usually on a different frequency.
I/Q Raw Recording
—
Audio Sample
Mazielka (X06) is a diplomatic selcall system used by the Russian Ministry of Foreign Affairs. Used to alert that a Serdolik transmission is going to occur soon, usually on a different frequency. Has only 6 tones, representing numbers 1 through 6, and transmits the same 5 number group repetitively.
The name "Mazielka" comes from a Russian instrument that sounds similar to flute, the sound of which early listeners associated with X06.
There are a few variants in which this signal can be seen in.
X06a is a variant of X06 that sends two alternating tones, and can last for hours. This is most likely a testing pattern.
X06b is a variant of X06, where the tone sequences feature consecutive tones. Mostly two or three consecutive tones in a sequence are observed, but rarely there are sequences which only feature a single tone.
X06c is a variant of X06 where the tone sequence is a continuous rising pattern. This is also considered to be a testing pattern.
X06 is usually found transmitting on single upper side band with a full carrier, but it has been seen transmitting on DSBDual Side Band Modulation/AMAmplitude Modulation on occasion as well as in single upper side band without a carrier.
Samples
[
edit
]
Old X06 Variant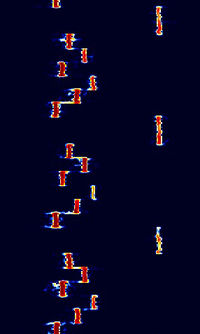 Another sample of X06.
Frequencies
[
edit
]
The list of frequencies can be seen here.
Decoding Software
[
edit
]
Video Examples
[
edit
]
Additional Links
[
edit
]
Additional Images
[
edit
]
Mazielka seen at 13441

kHz

KiloHertz (kHz) 10^3 Hz

after a

CIS MFSK-68

transmission on the same frequency. August 11, 2016